I'm sure you all have thought this, I wish I had more time to "fill in the blank".
Spend with the kids, spend with spouse, spend with your family, spend with your friends, catch up around the house, work out, train, race, eat, rest etc. I even had to
take off work last Friday
to catch up with the house before we could no longer us the basement or garage!
That also put a ding in training time last week. I was hoping to get the biggest volume (time wise) in last week. Not so much. Only got 9+ hours but 100+ miles. I'm starting a petition for a new weekend day - SataSunday. 8 day weeks now!
Oh, and by the way, as I was riding this morning I'm started a gradual uphill as a car is coming downhill. Usually no big deal, it just results in a blind moment where the headlights are right in my face and I have to look down to make sure I stay on the road. Well, I hear this "good morning" and out of nowhere there are two ladies running head on at me in the wrong lane and it was just about a quick ending to the morning.
Am I wrong or as a runner, wouldn't it be smart to run with the direction of traffic when it's pitch black out and there are no sidewalks? I admit I've run against traffic flow to see cars coming but that's usually in daylight or on streets with street lights. I swear... runners around my town are starting to give us a bad name!
TRAINING
Totals from last week
Biking : 86.5 miles
Running : 21.7 miles
Swimming : 3500 yards - that was a HUGE letdown. Just ran out of opportunities to get to the pool. Sigh.
Total Time : 09:44
Can't really try and push to top that this week as I need to taper for IM Boulder. Got my tickets, got my rental car... just need to draw up a plan to pack the bike and get it there in one piece! There's a product review mixed in there as well after Boulder. Stay tuned for that.
FALKEE TRIATHLON
Scott Askins races the Buster Britton Memorial Triathlon
and sports the TMAT pro!
EXAMINER
Check out the latest product review for Skin Strong Skin Equipment
HERE
. Used it for
Midwest Mayhem Triathlon
as well as my 14 mile run this past weekend. Good stuff!
KANSAS CITY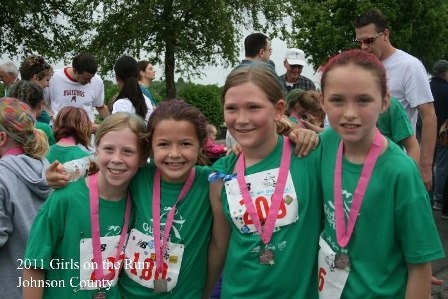 Help change the lives of young girls in Kansas City! Girls on the Run is expanding this fall and is in need of volunteer coaches. Volunteering as a coach is a life-changing experience. You share your time and energy while instilling a positive self-image in girls 3rd-8th grade in Johnson County, Kansas.
All coaches receive training, supplies and curriculum. If you sign up to coach and have a daughter participating in the program, you will receive a 50% scholarship on her registration fee. For a list of current sites, check our site locator. Be sure to watch the video of some empowered Girls on the Run in action! To learn more about becoming a coach, please email Jamie Thompson, Program Coordinator, jamie@gotrkc.org.
SALES
Free Shipping on orders of $99 or more at DicksSportingGoods.com!
SUMMER BLOWOUT SALE! Save 36-70% On ALL Footwear, Apparel, and Gear at LeftLane Sports! Sale ends 8/1